Perilla & Peucedanuma Combo (Tong Xuan Li Fei Pian) 96Tablets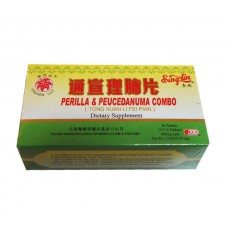 Perilla & Peucedanuma Combo (Tong Xuan Li Fei Pian) 96Tablets
Dietary Supplement
96 Tables (12 X 8 tablets)Net Wt. 2.03 oz. (57.6g)
Introduction: A traditional herbal supplement that helps promote and maintain overall well being during cold seasons and healthy respiratory system by establishing the body's natural balance etc. Moistens dryness, resolves phlegm-heat and phlegm-damp, tonifies lung qi. Use to treat dry cough with sticky phlegm to heat in the lung and trachea, with labored breathing. Also appropriate for chronic phlegm-dump in the lungs, including bronchitis mid asthma.
Ingredients: Perilla leaf (Zi Su Ye) , Coltsfoot Flower bud(Kuan Dong Hua), Peucedanuma root(Qian Hu), Platycodon root (Jie Geng), Tangerine dried rind (Zhi Qiao), Tangerine dride rind of mature fruit (Chen Pi), Kudzu root (Ge Gen), Tiger lily bulb (Bai He), Licorice Root (Gan Cao).
Other ingredients: Corn starch,.
Directions: As a dietary supplement, Take 2-4 tablets 2 times a day with warm water.
Warnings: Do not use if you are pregnant. Do not use if the bottle seal is broken or missing.
*.*This statement has not been evaluated by the Food and Drug Administration. This product is not intended to diagnose, treat, cure, or prevent and disease.
Write a review
Your Name:
Your Review:
Note: HTML is not translated!
Rating:
Bad
Good
Enter the code in the box below: