Shui De An 12(Capsules) Herbal Supplement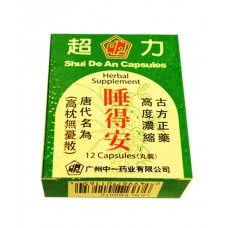 Model:
SDA303
Reward Points:
0
Availability:
In Stock
Shui De An 12(Capsules)
Herbal Supplement
Information: Shui De An Capsules this product is developed from specific Chinese herbs, processed for use in maintaining the health of the nervous system. In clinical test, the product has proven to be highly effective in promoting healthful sleep. Favorable results mat be seen in about a week, but in some cases, results may be seen in as little as 1-2 days, or as long as 1-2 weeks. This product is effective for a long time.
Helps to sleeping patterns and aids in maintaining the health of the blood and the heart. also supports the health and function of the nervous system.
Ingredients: Shang Shen (White Mulberry Fructus), Ren Shen (Ginseng Root), Suan Zao Ren (Wild Jujube Seed), Bai Zi Ren (Arborvitae Seed), Fu Ling (Polyporus slerotium), Dan Shen (Red Sage Root), Salvia, Zhi Mu (Anemarrhena Rhizome), Mai Dong (Dwarf-Lilyturf Root), Wu Wei Zi (Schisandra fruit), Bai Zhu (White Atractylodes), Gan Cao (Licorice Root), Yuan Zhi (Polygala Root).
Other ingredients: Gelatin, corn starch, water color including titanium dioxide Blue 1 and Yellow 5
Serving Size: 2 Capsules Servings per container: 6
Manufactured By: GuangZhou ZhongYi Pharmaceutical Co. Ltd. Model:SDA302
Directions: As a dietary supplement, take 1-2 capsules with cool boiled water, just before bedtime.
Warnings: Do not use if you are pregnant. Keep this product out of reach of children, Do not use if the seal is broken. Keep tightly closed and store in a cool and dry place.
*.*This statement has not been evaluated by the Food and Drdug Administration. This product is not intended to diagnose, treat, cure, or prevent and disease.
Write a review
Your Name:
Your Review:
Note: HTML is not translated!
Rating:
Bad
Good
Enter the code in the box below: