Pure Korean Red Ginseng (Gao Li Sheng Wan) "Royal King"Brand(50 Capsules)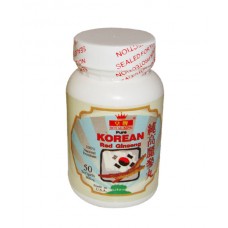 Pure Korean Red Ginseng (Gao Li Sheng Wan) "Royal King"Brand(50 Capsules)
Products contains No sugar, No starch, No salt, No preservatives, No yeast, No milk or wheat.
Net Wt. 50 Capsules 500mg/Each (1.75oz. / 50g)
Information: This is pure Korean ginseng extract capsule made from original Korean ginseng roots. It has been, through special method processed with extracts abstracted at best quality of ginseng and Chinese herbs to be know very well the effectiveness to our health from ancient. Korean Ginseng contain higher than that of the other origin of ginseng saponins, ginseng polysaccharide, amino acid, protein, vitamins and a variety of minerals necessary for human and other effective care ingredients. Use for incres Nourish Qi, promote endurance and energy, very effective as a stimulant, for fatigue, lack of energy, also can enhance immunity,
Ingredients: Each Capsule Contains 500mg of Korean Ginseng Extract.
Serving Size: 50 Capsules 500mg/Each (1.75oz/50g) / bottle
Directions: As a nutritional supplement, take 2 capsules after each meals or as directed bu health care of professionals.
Warnings: Pregnant or nursing women should consult their physician before using this product. Keep out of reach of children. People with high blood pressure should avoid Korean Ginseng as it has Heat properties.
*.*This statement has not been evaluated by the Food and Drug Administration. This product is not intended to diagnose, treat, cure, or prevent and disease.
Write a review
Your Name:
Your Review:
Note: HTML is not translated!
Rating:
Bad
Good
Enter the code in the box below: