Xia Sang Ju Beverage Herbal Drink Mix "Royal King" Brand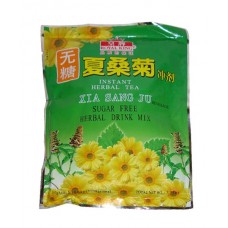 XSJ006 Xia Sang Ju Beverage Herbal Drink Mix "Royal King"
Sugar Free
Information: Clearing the liver and brightening eye, dispersing wind and dissipating heat, eliminating dampness and impediment. Used as a freshener drink for wind-heat common cold, red eyes and headache, garget and angina.
Ingredients: Selfheal Flower (Spica Prunellae) ,Mulberry Leaf(Folium Mori), Chrysanthemum Flower(Flos Chrysanthemum).
Serving Size: 1 bag(10) Serving Per Container: 10 Model: XSJ006
Net WT: 3.75oz(10gx10packets)
Directions: Dissolve one or two bags in serving,2-3 times daily as needed. Not to exceeds 6 bags within each 24 hours period.
Warning: Pregnant women please consult your physician before using this product.
*.*This statement has not been evaluated by the Food and Drug Administration. This product is not intended to diagnose, treat, cure, or prevent and disease.
Write a review
Your Name:
Your Review:
Note: HTML is not translated!
Rating:
Bad
Good
Enter the code in the box below: