Alopecia Areata Pill (Ban Tu Wan)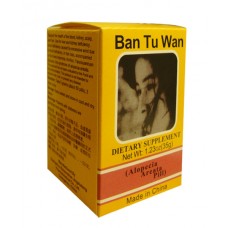 Model:
BTW243
Reward Points:
0
Availability:
In Stock
Price: $6.75
2 or more $6.50

Alopecia Areata Pill(Ban Tu Wan)! Dietary Supplement! 1.23oz. (/35g).
Information: A dietary herbal supplement that supports the health of qi and the blood, kidney, scalp and hair. and helps promote the blood blood circulation. Building up blood tonic functions and kidney essence. Enriching the liver and kidney, nourishing and quieting the spirit. Use for alopecia area, general alopecia, baldness, seborrheic alopecia, alopecia due to the blood vacuity, alopecia following childbirth or following a serious disease.
Ingredients: Paeonia Lactiflora root, Fallopia multiflora root, Rehmannia glutinose root, Notopterygium incisum root, Angelica sinensis root, Chaenomeles sinensis root, Salvia miltiorrhiza root, Schisandra fruit, Rehmannia root
Other ingredients: honey
Serving Size: 5g
Servings per container: 7
Net Weight: 1.23oZ (35g)
Directions: As a dietary supplement, Take 5 grams (about 50pills), 3 times a day.
Warnings: Do not use if you are pregnant. Keep this product out of reach of children, Do not use if the seal is broken. Keep tightly closed and store in a cool and dry place.
*.*This statement has not been evaluated by the Food and Drug Administration. This product is not intended to diagnose, treat, cure, or prevent and disease.
Write a review
Your Name:
Your Review:
Note: HTML is not translated!
Rating:
Bad
Good
Enter the code in the box below: