Golden Book Tea Pills (Jin Gui Shen Qi Wan)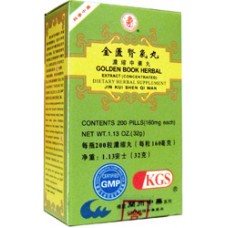 Golden Book Tea Pills (Jin Gui Shen Qi Wan).
Information: For a person with kidney Yang(vital function)deficiency.The discomforts are: lumbago, coldness sensation in the lower part of the body, spasmodic pain in the lower abdomen, dysuria, frequent urination and nocturia.
Ingredients: Radix Rehmanniae (Shu Di) , Fructus Corni (Shan Zhu Yu) , Rhizoma Disoscoreae (Shan Yao) , Cortex Moutan (Mu Dan Pi) , Poria (Fu Ling) , Rhizoma Alismatis (Ze Xie) , Cortex Cinnamomi (Rou Gui) , Radix Achyranthis Bidentatae (Niu Xi) , Radix Polygoni Multiflori (He Shou Wu) , Fructus Lycii (Gou Qi Zi) .
Other ingredients: Corn starch and water.
Serving Size: 8 pills. Servings Per bottle : 200 pills.
Net WT. 1.13 OZ.(32g).
Suggested Use: For adults, take 8 pills 3times a day. Or consult your oriental medical doctor. Do not use if pregnant.
Caution: Keep bottle tightly Closed. Store at room temperature. Keep out of reach of children.
*.*This statement has not been evaluated by the Food and Drug Administration. This product is not intended to diagnose, treat, cure, or prevent and disease.
Write a review
Your Name:
Your Review:
Note: HTML is not translated!
Rating:
Bad
Good
Enter the code in the box below: