E Z Shaper 60 Capsules (New)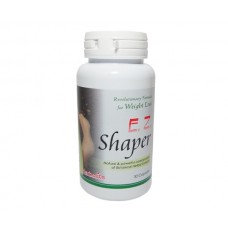 Model:
YM905
Reward Points:
0
Availability:
In Stock
Price: $49.99

E Z Shaper​ 60 Capsules
Revolutionary Formula of Weight Loss
Natural & powerful combination of botanical Herbal Extracts
No side effects ‐ 100% herbal blend!
Information: This amazing formula produces an entirely new level of effectiveness never before seen in the diet supplement industry. Utilizing natural botanical herbal extracts as ingredients, E.Z. Shaper helps prevent eating craving, curb the appetite to control calories intake, sustain energy naturally without side effect.
Ingredients: Polygonum multiflorum, Gynostemma pentaphyllum, Lotus leaf, Mulberry, Aloe, Fructus Crataegi, Ganoderma lucidum, Alisma orientale, Spirulina, and Calcium pyruvate. Linactive Ingredients: Gelatin, Magnesium, Stearate, Water.
Serving Size: 2 Capsules. Sevings per Cotainer: 30.
Directions: Take 2 capsules in the morning with empty stomach. Drink a lot of water and eat a lot of fruits and vegetables. Consult with your physician if you have a severe health condition.
Warning : *Do not take this product if you have severe cardiovascular problems /conditions without first consulting your physician.
*.*This statement has not been evaluated by the Food and Drug Administration. This product is not intended to diagnose, treat, cure, or prevent and disease.
Write a review
Your Name:
Your Review:
Note: HTML is not translated!
Rating:
Bad
Good
Enter the code in the box below: